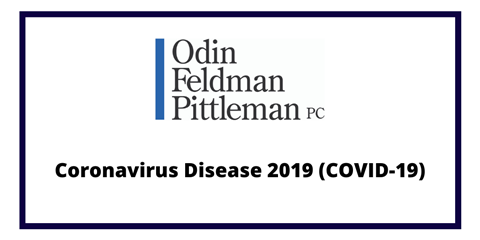 Below please find the latest articles from Odin, Feldman & Pittleman, P.C. relating to recent legal updates impacting individuals and businesses as a result of COVID-19.
US DEPARTMENT OF LABOR – PAID SICK LEAVE PROVISIONS
The US Department of Labor ("DOL") issued a notice that covered employers are required to share regarding the recently passed paid sick leave provisions. At present, the DOL is soliciting questions from employers and employees as the agency prepares to draft enabling regulations to address how to implement these paid-leave provisions. As shown by this solicitation for comments and questions, there are many open questions about how an employer is to respond to requests for coverage. Learn more here.
SBA ANNOUNCES DISASTER ASSISTANCE FOR SMALL BUSINESSES
The Small Business Administration has relaxed requirements for small businesses whose operations have been disrupted by COVID-19. SBA Disaster Relief loans may be used to "…pay fixed debts, payroll, accounts payable and other bills that can't be paid because of the disaster's impact. The interest rate is 3.75% for small businesses. The interest rate for non-profits is 2.75%." Read more here.
COVID-19 is creating unprecedented business disruptions around the globe, and it is important to take this situation seriously. Acting with urgency is crucial, but having a plan of attack will mitigate confusion down the road. Click here to learn more.
NEW OMB GUIDANCE ENCOURAGING FOR GOVERNMENT CONTRACTORS
In an attempt to mitigate the unfolding COVID-19 public health emergency, state and local governments have started issuing "lockdown" or "stay-at-home" orders. Generally, the state lockdown orders have directed that all businesses utilize telecommuting or work-from-home procedures to the maximum extent practicable. Where telework is impractical, some states are only permitting essential businesses to remain open. Companies with operations in these jurisdictions must understand the scope of applicable restrictions and whether their operations are essential and should continue during the lockdown. Learn more from attorney Michelle DiCintio.
IS YOUR WORK OR BUSINESS CONSIDERED "ESSENTIAL"?
OFP Shareholder Shiva Hamidinia provides a run-down to help businesses determine whether they are deemed essential as the country works to maintain social distancing protocols to help stem the spread of COVID-19. Click here to learn more.
COVID-19 – CREDIT FACILITIES AND ECONOMIC UNCERTAINTY
As COVID-19 continues to stir economic uncertainty, businesses are concerned about possible defaults under their credit facilities and some businesses may want to consider how they are using credit vehicles to support ongoing operations. Click here to learn more.